2017
Medications in Dangerously Short Supply in Gaza
Physicians for Human Rights-Israel reports that there are "unprecedented levels of scarcity" of medications and medical equipment needed for surgery in Gaza, and that the closure and escalating electricity crisis have hit hospitals hard. Read more in this message from Physicians for Human Rights.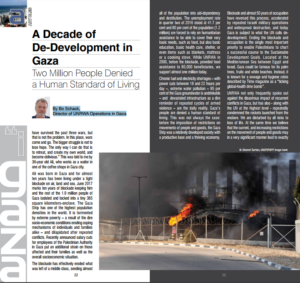 A Decade of De-Development in Gaza:
Two Million People Denied a Human Standard of Living
Read the new report by Bo Schack, Director of UNRWA Operations in Gaza.
GAZA 2017
What is life like for Gaza Strip residents as the Israeli blockade enters its 12th year? How can mental health thrive under these conditions? Read the "100,000 Hours of Isolation" report for more.
---
2015
Missile deaths on Gaza beach:
September 25, 2015 – Mondoweiss published an article exploring interesting perspectives on mental health and collective depression in Gaza. Read more.
September 18, 2015 – The Nation published an article on the impact of the 2014 Israeli war on Gaza on surviving family members and the ways in which although many physical wounds have healed, psychological scars persist as trauma can have residual effects that change, develop, and devastate over time. Read the article.
September 2, 2015 – Truthout, an independent nonprofit news agency, recently published an article on the impact of living under chronic siege on Palestinian family health focusing on how the infant death rate in Gaza has increased for the first time in five decades. Read the article.
August 25, 2015 – Journalist Belen Fernandez shares her commentary on discourses around the complexity of psychological trauma experienced by Palestinian families in Gaza, see article Permanent Traumatic Stress Disorder in Gaza for more.
August 22: Dave Lippman and the Lippband held a benefit for the Gaza Community Mental Health Clinic on Saturday August 22 in Brooklyn. Watch the nearly-award-winning promo video.
Jews for Justice for Palestinians share a powerful Homage to Eyad El-Sarraj.
Gaza Mental Health Foundation Board member Othman Mohammad helped to create a new video series with the #Bissalameh program team. Watch the video and read more.
Summer 2014 Israeli Attack
New York Magazine's Science of Us: A Youth PTSD Catastrophe is Brewing in Gaza

FirstPost: Gaza's brewing crisis: Children struggle to keep a grip on sanity

Jamila Sherif et al: The current state of healthcare in Gaza
Voice of America: Gaza Mental Health President Bill Slaughter speaks to Voice of America
(begins about 10 minutes into segment)
World Health Organization: Shell-shocked Gazans seek to expand mental health services in wake of conflict
Newsweek: Doctors Start Work as UN Estimates 400,000 Gaza Children Need Psychological Care
New York Times: UN Reports Dire Impact on Children in Gaza Strip
New York Times: In Fatal Flash, Gaza Psychologist Switches Roles, Turning Into a Trauma Victim
The Telegraph: Gaza conflict 'causing PTSD in children' after seeing dead bodies and witnessing heavy shelling
The New Yorker: Fathers and Sons in Gaza, July 26, 2014, by Wasseem El Sarraj, son of Dr. Eyad Sarraj, the Gaza Strip's first psychiatrist and the founder of the Gaza Community Mental Health Programme
The Conversation: What Is Happening to the Mental Health of Young People Caught Up in Gaza Conflict? July 28, 2014 by Jon Snow
UK Channel 4 Snow Blog: Gaza: is this a war on children? July 23, 2014 by Jon Snow