The Gaza Mental Health Foundation is an all-volunteer group which raises funds and provides training to support the critical work of the Gaza Community Mental Health Programme and other independent, non-sectarian mental health and women's empowerment groups in the Gaza Strip. We are based in the United States and are a registered 501c3 nonprofit. Read more about our work & history. Support the vital efforts of grassroots mental health initiatives in Gaza by donating online today!
---
The GCMHP NEEDS YOUR HELP TO COMPLETE ITS NEW HEADQUARTERS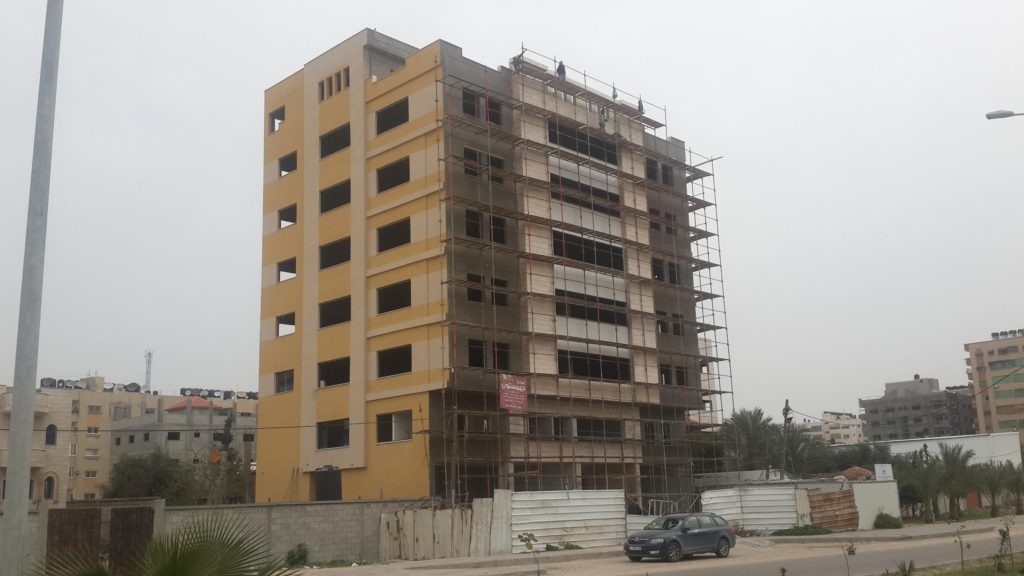 Against considerable odds, the Gaza Community Mental Health Program has successfully built the shell of its new headquarters in Gaza City and is now hoping to move into the building in 2018. Please consider helping them complete the building, which will be named after GCMHP founder Dr. Eyad el Sarraj.
The building will include psychotherapy rooms, a play therapy room for children, occupational and physiotherapy spaces, a telephone counseling unit and pharmacy. Two floors will be devoted to three large training halls, a library and research department. The building will also accommodate the GCMHP's administrative units and have guest rooms for international visitors and trainers. When sufficient funding is obtained solar panels will be put on the roof.
You can donate electronically or by sending us a check with "headquarters" on the memo line. If you make a credit card or PayPal payment, please send us an email at info@gazamentalhealth.org and let us know your donation is for the building fund.
GCMHP is Building for the Future
Early in January 2017 Alice Rothchild, a physician, author, filmmaker and Gaza Mental Health Foundation Board member, visited the Gaza Strip where she toured three clinics run by the Gaza Community Mental Health Program. In her blog she describes her meetings with GCMHP professionals who talked about why the connection between mental health and human rights is so vitally important in their work. See her blog for more.
GCMHP executive director Dr. Yasser Abu Jamei was eager to show her the structure of the new GCMHP headquarters which, she writes, "represents a commitment to the future of the center and the end of the financial drain of renting two large facilities." In the photo above, Alice (second from right) stands in the building that is taking shape with Dr. Abu Jamei and (from left) Mina Remy and Chung-Wha Hong from the Boston-based organization Grassroots International.
Dr. Yasser Abu Jamei Concludes His Second Trip to the U.S.
After having his travel permission blocked for some months, Dr. Yasser Abu Jamei, the Executive Director of the Gaza Community Mental Health Programme, arrived in Boston just in time to make a presentation on November 11 at Harvard Arab Weekend 2016. For the three subsequent weeks he gave talks and conferred with mental health professionals in Boston and other US cities before leaving for a long delayed speaking tour of the UK, where he received an Alumni of the Year award from the University of Birmingham. For more on Dr. Abu Jamei's trip see the October-December 2016 newsletter of the GCMHP.
Mental Health and Human Rights


In April 2016 two Gaza Mental Health Foundation trustees were able to enter the Gaza Strip to participate in the "Mental Health and Human Rights" conference organized by the Gaza Mental Health Foundation. Here conference speakers are pictured with GCMHP staff at the end of the two-day event, which was attended by nearly 800 people from around the Gaza Strip:
This film about the life of GCMHP founder Dr. Eyad el Sarraj was shown at the "Mental Health and Human Rights" conference:
Read a description of a recent trip to Gaza by Gaza Mental Health Foundation trustee Nancy Murray, "Keeping Hope Alive in the Gaza Strip."
---
First US tour by Executive Director Yasser Abu Jamei, MD
The October 2015 tour was a wonderful success. Thanks to all: donors, attendees, media and hosts. Read more about the tour…
---
UPDATES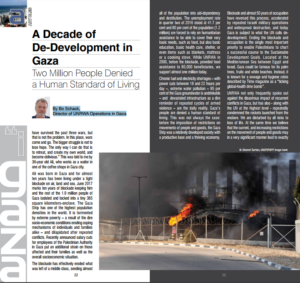 A Decade of De-Development in Gaza:
Two Million People Denied a Human Standard of Living
Read the new report by Bo Schack, Director of UNRWA Operations in Gaza.
GAZA 2017
What is life like for Gaza Strip residents as the Israeli blockade enters its 12th year?  How can mental health thrive under these conditions? Read the "100,000 Hours of Isolation" report for more.

Missile deaths on Gaza beach:
September 25, 2015 – Mondoweiss published an article exploring interesting perspectives on mental health and collective depression in Gaza. Read more.
September 18, 2015 – The Nation published an article on the impact of the 2014 Israeli war on Gaza on surviving family members and the ways in which although many physical wounds have healed, psychological scars persist as trauma can have residual effects that change, develop, and devastate over time. Read the article.
September 2, 2015 – Truthout, an independent nonprofit news agency, recently published an article on the impact of living under chronic siege on Palestinian family health focusing on how the infant death rate in Gaza has increased for the first time in five decades. Read the article.
August 25, 2015 – Journalist Belen Fernandez shares her commentary on discourses around the complexity of psychological trauma experienced by Palestinian families in Gaza, see article Permanent Traumatic Stress Disorder in Gaza for more.
August 22: Dave Lippman and the Lippband held a benefit for the Gaza Community Mental Health Clinic on Saturday August 22 in Brooklyn. Watch the nearly-award-winning promo video and DROP A DONATION to Gaza Mental Health Foundation, P.O. Box 380273, Cambridge, MA 02238.
JEWS FOR JUSTICE FOR PALESTINIANS share a powerful
Homage to Eyad El-Sarraj
Gaza Mental Health Foundation Board member Othman Mohammad helped to create a new video series with the #Bissalameh program team. Watch the video and read more.
TO DONATE:
Donate online via PayPal, or print out a brochure and send a check with your name, address, telephone number and email address to: Gaza Mental Health Foundation, PO Box 380273, Cambridge, MA 02238 USA. Email us with questions.
Your tax-deductible donations would support the mental health work carried out by the Gaza Community Mental Health Program, as well as Afaq Jadeeda's children's therapy program, "Let the Children Play and Heal" in Nusseirat refugee camp, founded by Dr. Muna El-Farra; and three women's empowerment groups: Aisha, Al Zahraa and Wefaq.
Given the huge number of traumatized children and families in the Gaza Strip, and the trauma endured by the GCMHP staff, your support is needed more urgently than ever.